Orlando Harding and R.R.H. bring a new take on a classic tale
Mark Turner
Oakland Comic Books Examiner
April 22, 2014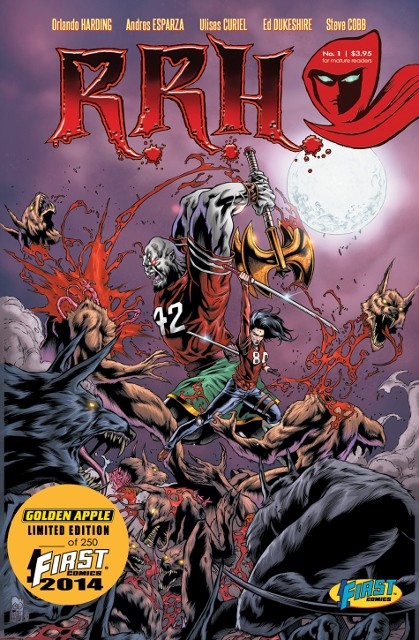 Orlando Harding keeps the hits coming with his latest release through First Comics entitled R.R.H. Mr. Harding took time out of his busy Con schedule to share a bit about this new fantasy/horror title and some really cool developments that are brewing around this new release.
MT: R.R.H is your latest creation that will be rolling out under the First Comics banner, what is the significance of the title and what is the story line about? What made you decide to go with First Comics as the home for this title?
OH: The significance of the title is the tale itself. We have all heard of the story of Red Riding Hood but with R.R.H. we take it to an entirely different level. When a person reads this book they will understand the events that unfold around Sydney Woodman and will actually find them to be believable and unlike anything they have ever seen. This book will explain several things left out of the tale regarding what really happened between Red, Grandmother & the Wolf. We will also introduce a few new characters and will reveal things that were left out and forgotten over time. The story will correlate how events from the past will affect Sydney in the present. She will rediscover important lessons lost by time and find them useful when dealing with the creatures of the Shadowland in the present. I have to admit that this story will have the reader begging for more.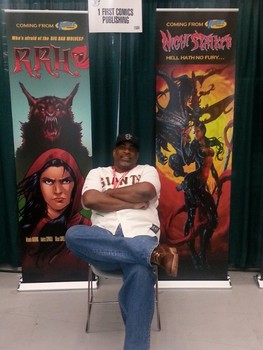 The basic premise of the story is that descendants of the "Wolf" have been able to track down the descendants of "Lil Red" and exact revenge upon them for what happened 800 years ago. One thing that the Wolf's descendants did not count on is that the descendants of "Red" are ready for them- resulting in a bloody & brutal war that takes place right under the nose of the modern world and civilized society in San Francisco. Sydney Woodman-a direct descendant of "Lil Red" is thrust into the middle of this epic struggle and will eventually become the most lethal assassin the world and the Wolves has ever seen. Her transformation will be amazing and tragic all at the same time, but she will be guided through it and become who she must in the end. You will feel for Sydney and the Wolves at the same time and will understand the struggles that both sides must endure.
I went with 1First Comics simply because they believed in me. I was turned down by so many publishers when I was pitching Night Stalker, but 1First Comics and Ken F. Levin saw the potential. They believed that there was a place and a need for Night Stalker and that we as a team could offer something to the world that had never been done. 1First was willing to do what others were unwilling.
MT: Your work tends to feature a strong supernatural/horror element. Is this intentional? Where did the inspiration for this story come from?
OH: It is very intentional that my work features a strong supernatural/horror element. It's what I love and it's what people seem to really respond too. When I pitch R.R.H. at the cons people are amazed and say "Are you serious?!!" this in turn results in a sale. They say that they have never heard of a concept like R.R. H. before and have to see where the book is going. I have received nothing but praise thus far for the book and that is a great sign!
The inspiration for the story came from me filling in the gaps of a legendary story. I went with what I knew and started asking questions about what was missing or what did not make sense. From this I took the next logical step and filled the gaps with occurrences that made sense, were believable and really cool. I then went to my wife (who is my harshest critic) and pitched to her and she was absolutely amazed. When I saw how she reacted, I knew I had something. Next thing you know she was coming back to me asking more questions and really getting deep into the story. She told me that no one was going to see this coming and that I had to get the book printed done asap. She said that she was anxious to find out what happened next, so she knew that others would be too. I went with a feeling and it turned out to be really cool and different.
MT: Does R.R.H occur in the same universe as Night Stalker (your other title that is under the First Comics banner)? If it does, any chance of a crossover at some point?
OH: They will indeed occur in the same universe. We might even have a cameo of a character in one of the books. I have an idea about how to do it but still have to coordinate the events between the two books so they make sense.
MT: Who is the creative team on this project? Will this be an ongoing project or limited series?
OH: The creative team on the project is Orlando Harding (Writer, Creator), Andres Esparza (pencils), Ulises Curiel (inks), Steve Cobb (colors) & Ed Dukeshire (lettering)
We have been cleared to produce five issues and I do believe that this will be an ongoing series after that-there will be so much more to tell.
MT: You recently ran a successful contest in conjunction with First Comics to find an artist for this project, what was it about the winner, that made their work stand out?
OH: When it came down to Andres & Ulises winning the contest it simply came down to style and appeal. They beat out over 500 other contestants competing for the same job. Just like a mate, you know on the inside as to what you're attracted too. Their work called out to me and it all just seemed to fit. They beat out a lot of other talented artists and deserved this chance to show what they can do. The funny thing is that I did not predict them as the winners. I thought it was going to be others that made it to the semi finals but when it was all said and done- it was clear that they were the winners. They have really been great to work with too! Nothing better than a team that gets along and works well together. I am a huge fan of both Andres Esparza and Ulises Curiel!
MT: It looks like the story is set in San Francisco, as with your previous work on Pariah and Night Stalker. What is it about the Bay Area that appeals to you so much in your storytelling? Will we be seeing more of surrounding cities or will the majority of this tale unfold in the iconic city?
OH: The bay area is my home. Since I cannot live there, the next best thing is that the characters I've created live there in my stead. San Francisco is the city that I know best, so it feels real to me when placing my characters in real places that I have been, enjoyed and long to be back in. I believe the entire bay area will play host to my characters. I will eventually put them all around the Bay Area and not just San Francisco. But what better place to put characters that you love, in the city that you love?
MT: Where can fans find the latest and greatest from the mind of Orlando Harding? Will the title be featured at any upcoming cons?
OH: We will be at C2E2 in Chicago April 25-27 and will be at the Amazing Las Vegas Comic Con from June 20-22
1First Comics, Orlando Harding, MORB-X FX & Eric Fox would like to take this opportunity to announce a partnership for the Amazing Las Vegas Comic Con in June of 2014. Eric Fox, best known for his brilliant work on Syfy's hit show Face Off and its spin-off Foxy & Co. have teamed up with 1First Comics & Orlando Harding to do something amazing. Orlando Harding, best known as the creator of the San Francisco based comic book Night Stalker & R.R.H. will appear with Eric at The Amazing Las Vegas Comic Con for the sole purpose of transforming an individual into the demon form of the character Night Stalker in front of an audience of comic con attendees. Similar to the transformations that millions viewed on Face Off, Eric will use all of his talents and skills to make the character Night Stalker come to life and etch terror into the hearts and minds of all that gaze upon her. This event will be the highlight of the Con and is a task never attempted before by Eric. Once transformed, The Night Stalker and Eric will walk the aisles of the showroom floor to a designated spot for autographs, photo ops and an opportunity for fans to take home a piece of history. This is an opportunity that you do not want to miss! A limited number of attendees will have the opportunity to watch the entire transformation take place. These seats will be highly sought after and extremely limited in number! More information will be forthcoming as the event nears. DO NOT miss this opportunity to watch a true master at his craft. This is an event that young and old alike will want to see and of course it had to happen in Vegas! Join us for this amazing event only at The Amazing Las Vegas Comic Con! This event has been brought to you by 1First Comics, MORB-X FX and The Amazing Las Vegas Comic Con.
Stay informed here: https://www.facebook.com/FirstComics and

https://www.facebook.com/pages/Night-Stalker/150998515054292
MT: Care to share what is next on the horizon for Orlando Harding and First Comics?
OH: I simply will be trying to take R.R.H. & Night Stalker to the next level. I am fascinated by comics, fantasy, and Sci-Fi and am proud to making a small contribution. 1First Comics will be focused on bringing you the very best books on the planet. 1First will be a name that people will associate with quality & recognized as a force to be reckoned with. 1First & Ken F. Levin are about to blow all of your minds!