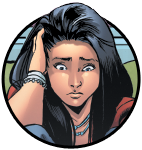 The RRH Story
In almost every way, Sydney Marie Woodman was your above average every day American teenager. This all changed on the dawn of her seventeenth birthday when she was informed of her direct lineage as a descendant of the famous Red Riding Hood. In a span of twenty-four hours, Sydney has been thrust into the middle of an epic and brutal 800 year war between The Order of the Red Hood and the savage Blood-wolves of the Underworld.
For nearly a millennia, the clan of the Blood-wolves has sought revenge on the order and are hell-bent on its destruction. The Clan has made alliances with the most vile and lethal creatures of the shadow land and now have the strength to bring not only the order, but mankind to the edge of existence. Sydney must endure as she transforms into the most deadly and lethal predator the world has ever seen and lead humanity out of the darkness. She'll make some unusual alliances and in the process will give rebirth to the legend. All this, while still attending high-school and preparing for her SAT's.
---

About the Author
Orlando Harding
Writer
Hi! I'm Orlando Harding. I would like to thank all of you who have supported us thus far. Being born and raised in the bay area has always made me return home and I am proud to have created the bay area's first super hero The cities that I have lived in like San Francisco, East Palo Alto, and San Jose has had a tremendous impact on me returning home to my roots in the city by the bay.
As a kid, I grew up watching sci-fi stuff and fell in love with it. The largest influence on me and was responsible for activating my creativity and love for sci-fi and fantasy was Star Wars, created by George Lucas. To date, I still think it is the coolest movie that I have ever seen. I've been told that in regards to stories, that just about everything had been done before so I had to come up with something unique, something that people had not seen before. I wanted to not only surprise people, but also peak their interests.
---
Ulises Curiel

Born in México City in 1974, studied a career as an Electronic Engineer, as well as Visual Arts on The University of Querétaro, a big comic book fan since the age of 3, read everything from European, Latin American and Mexican comics to anything Marvel and DC published. He worked as a comic book retailer as well as a producer/ director on comic book related shows for radio and TV in the city of Querétaro where he resided until 2013. He entered the First Comics talent contest and beat out over 70 entries to win the opportunity to ink RRH He continues to grow as an artist and inker and is thrilled of the promise that RRH is showing.
---
Andres Esparza

Since an early age Andres was intrigued with the fantastic adventures and life of The Amazing Spiderman. This fascination motivated him to study the craft and keep drawing. Andres has more than 10 years working in the comic book independent field in México and is known for his attention to detail as an illustrator but also as an editor, story board, concept artist and colorist for Marvel, DC, and IDW studio. He entered the 1 First Comics search for talent and beat out over 900 competitors to become the penciller on R.R.H. He is very excited about R.R.H. and has finally earned the opportunity to show what he can really do.