Red Riding Hood #4-#5 ComicWow! Review
by ComicWow!
comicwow.com
February 22, 2016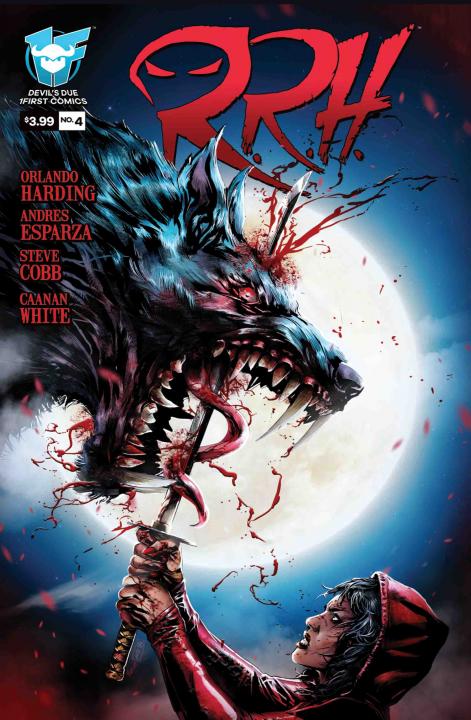 Red Riding Hood is a classic story that, hopefully, all of us have heard at some point or another. Orlando Harding, however, takes this classic tale and twists it into a story of growing up, mythical creatures, gore, and overall epic proportions.
For anyone who missed out on issues #1#3, dont worry. Heres a quick refresher to make sure youre caught up:
In the first three issues, Sydney (our protagonist) is told that she is part of the Order of the Red Hood (awesome people who destroy werewolves). This time is crucial for them because it is the season of the Blood Moon (when werewolves are at their strongest). She gets some garments, a katana, and a gun with silver bullets from her parents. She comes into contact with a werewolf in issue #2 (he sort of kidnaps her and then shifts forms after he gets angry that Sydney beats the crap out of him). She also meets Solomon of the House of Royshauk, an ogre who claims that he is dedicated to her. When she finally gets to go home, her parents tell her that the Reckoning (end of days) is coming, and she must be prepared.
These first three issues set up a really solid and interesting storyline. IÕm itching for some action, though, and Harding gives us just that in issues #4 and #5. In issue #4, Ag sets up a deal with a woman who will later send 10 of something (we donÕt know yet) to SydneyÕs house. Sydney finally goes back to school (because her face looks a little less wrecked than before. When she comes home, she has a bunch of hunting questions for her mother, who says she is not ready to hunt (but she really thinks Sydney would be okay). Despite her mother telling her not to hunt, Sydney goes out at night and ends up saving a civilian from a werewolf that she slices dead in one swift motion.
READ THE FULL REVIEW ON COMICWOW.COM