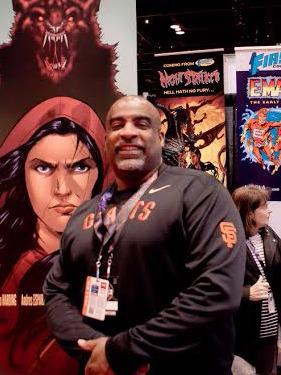 INDIE INTERVIEW
thebronzereview.com
October 12, 2015
PATH LESS TAKEN
Orlando Harding is a full-time substance abuse counselor by day, and a published comic book writer on night and weekends.
Subjected to what he believed to be some truly horrible comic book stories, comic book collector Orlando Harding felt he could do better. With a challenge and words of encouragement from his wife, the full-time licensed substance abuse counselor immediately launched into his writing career on nights and weekends, churning out his first story, PARIAH, followed by NIGHT STALKERS, which earned him a 2013 GLYPH AWARD for Best Female Character. This week, Harding is about to launch his very first comic book published by First Comics, RRH.
"I made a comment to my wife that I thought I could write a better book than what I was reading," Harding explained. "She challenged me to do so. She said that I always had a good imagination and the next thing you know, I was writing Pariah."
If it sounds like a pretty simple road for the born and raised San Franciscan, think again, as Harding was told No so much that it might not have been a surprise for him to think his name was actually the two-letter word. But, a funny thing happened on the way to landing his first-ever publisher title, Harding just kept plugging away and never gave up.
CLICK HERE TO READ THE FULL INTERVIEW WITH ORLANDO